Newly released 2017 HIV surveillance data for New York City – with a record low data lag of <12 months
By ETE Dashboard |
December 4th, 2018 |
Categories:
Tags:
|
0 Comments
2017 HIV surveillance data for NYC
Newly released HIV surveillance data from the New York City Health Department show 2,155* people were diagnosed with HIV in New York City in 2017, representing a 5.2% decrease from 2016. Among these new diagnoses, 80% were linked to HIV care within 30 days.
These newly released data are now available and featured on a new interactive tool on the ETE Dashboard that presents trends among persons with a new HIV diagnosis in New York City dating back to 2006. Using this interactive tool, ETE Dashboard users can view trends like newly diagnosed cases and rates by demographics or transmission risk with the ability to drill down to borough or UHF neighborhood level. Other key measures of interest to Ending the Epidemic in New York are also available, such as concurrent HIV/AIDS diagnoses, and the timeliness of linkage to care and viral load suppression among persons with newly diagnosed HIV.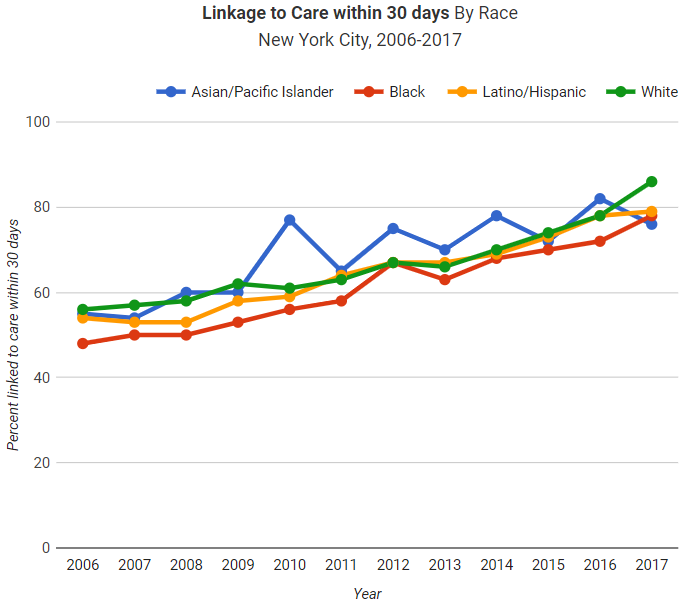 Record low surveillance data lag
We would like to recognize an important data milestone, which is that for the first time in ETE history, NYC HIV surveillance data for the prior calendar year (2017) has been disseminated and made available on the ETE Dashboard in <12 months (i.e., before the end of 2018). Given the amount of work managing large volumes of surveillance data, and the associated field investigations, data cleaning, and analysis, this is a major ETE-related accomplishment, since more timely data can translate into more timely action.
In addition to the launch of our new visualization showing trends among persons with newly diagnosed HIV, we will soon be posting updates to the HIV Care Continuum both for people with newly diagnosed HIV and all people living with HIV with the new 2017 data. Stay tuned for much more content coming soon to the ETE Dashboard.
*Data reported to the NYC DOHMH HIV Epidemiology and Field Services Program by March 31, 2018. Data includes people all ages 13 and older, which explains slight differences between these numbers and data published elsewhere by the NYC DOHMH.