Bronx Serosurvey finds decline in undiagnosed HIV prevalence rate since 2010 among emergency department attendees
Understanding the prevalence of undiagnosed HIV is critical to prevention and linkage efforts. In a recent
press release
on National HIV Testing Day, the NYC Department of Health and Mental Hygiene shared preliminary results from an emergency department based serosurvey (survey that measures the presence of HIV antibodies in a given population) that was conducted in 2015 at Montefiore Medical Center in the Bronx, NY. More than 5,000 specimens were collected from patients in Montefiore's emergency room over a two month period between March 8 and May 8, 2015. Overall, HIV prevalence among all surveyed patients was 5 percent, with the highest prevalence age group being 50 to 59 at 9.2 percent. Among all persons in the study with HIV infection, the proportion with undiagnosed infection ("undiagnosed prevalence") was 5.6 percent. This estimate is substantially lower than the 14 percent undiagnosed prevalence estimated in 2010 from a similar serosurvey in a Bronx emergency department, and is consistent with an increase in the proportion of persons with HIV who are aware of their serostatus in the Bronx. A limitation of emergency department serosurveys are that they exclude persons who do not access emergency care, who may be more or less likely to have undiagnosed HIV, limiting the generalizability of the estimate to the general population.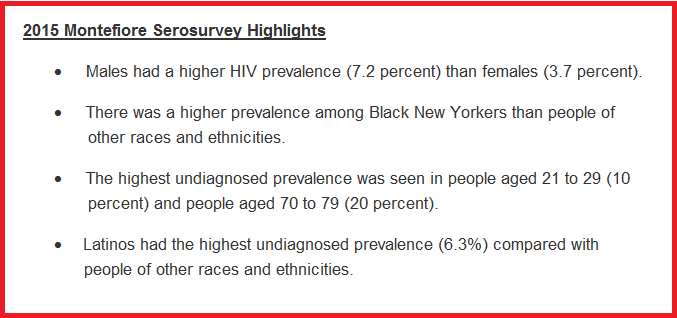 Key citywide initiatives aimed at HIV testing and access to care may have played a role in these improvements; in 2008, the large-scale HIV testing program, Bronx Knows, was implemented to improve voluntary HIV testing throughout the borough. In 2014, the campaign was expanded to New York Knows, a citywide partnership of health centers, hospitals, and businesses focused on linking more New Yorkers to testing and health care. Along with the statewide program, the Expanded HIV Testing (EHT) Initiative, these activities are critical in addressing the ETE Blueprint's first aim to "Identify persons with HIV who remain undiagnosed and link them to health care." While some progress is being made, initial results from the 2015 serosurvey highlight a concerning and continuing trend in the racial and ethnic disparities of undiagnosed HIV infection – the highest undiagnosed prevalence among Latinos and the highest overall prevalence among Black New Yorkers. In an effort to reach the communities most burdened by HIV in New York City, the Health Department launched the campaigns #BeHIVsure and #PlaySure to target prevention and testing, key pillars to ending the epidemic by 2020.
For detailed information on HIV testing rates in NYC communities by sex, age, and race/ethnicity, visit the
ETE's interactive HIV testing module here.
Have a comment? Please post below!