PrEP and PEP utilization data now available through June 2021
By ETE Dashboard |
April 20th, 2022 |
Categories:
Tags:
|
0 Comments
Newly released PrEP and PEP utilization data through June 2021 are now available on the ETE Dashboard.
PrEP (Pre-Exposure Prophylaxis)
Between January-June of 2021, PrEP use for HIV prevention in New York State leveled off, following a drop in usage during 2020, likely resulting from the early COVID-19 pandemic. However, total PrEP use did not return to pre-pandemic levels.
30,799 New Yorkers filled at least one PrEP prescription during the first half of 2021, a slight increase (+0.2%) from the 30,729 PrEP users between July-December of 2020. While this change in PrEP utilization is minimal among all individuals, there was a much larger increase in PrEP utilization among only Medicaid-insured recipients, with 9,076 Medicaid recipients filling at least one PrEP prescription between January-June 2021, a 17% increase from 7,745 between July-December 2020.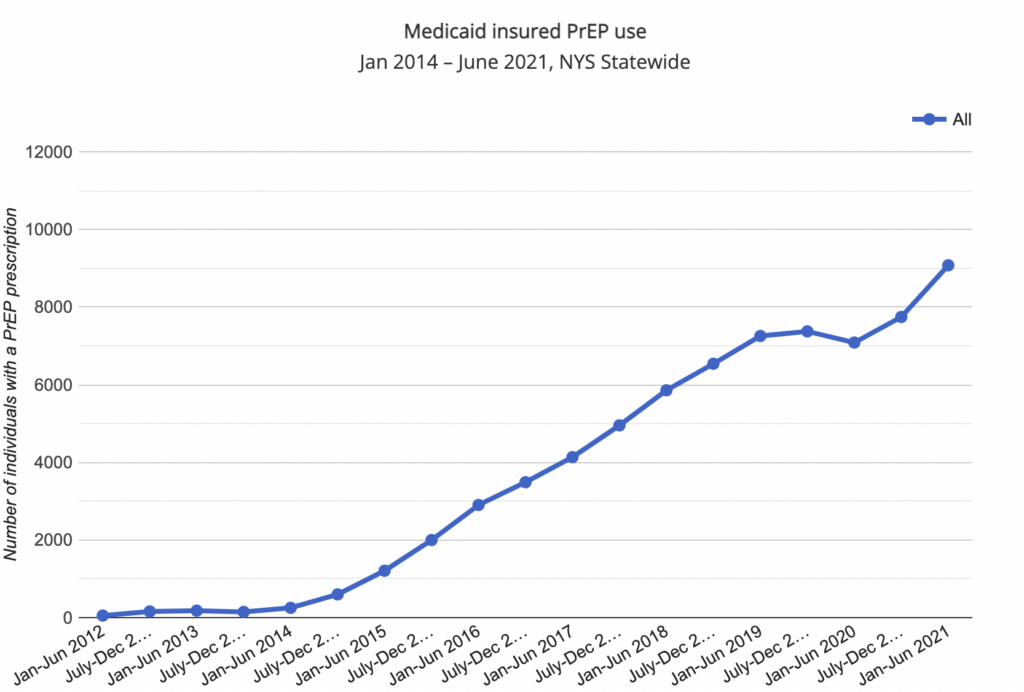 PEP (Post-Exposure Prophylaxis)
PEP utilization began to level off among Medicaid-insured New Yorkers in 2019, following steady increases from 2012 to 2018. A steeper decline was then observed in 2020, likely due to the COVID-19 pandemic. While this decline lessened in 2021, PEP usage has yet to rebound. The latest data show that PEP usage in New York City actually increased slightly between January-June 2021, while usage in the rest of the state continued to decline.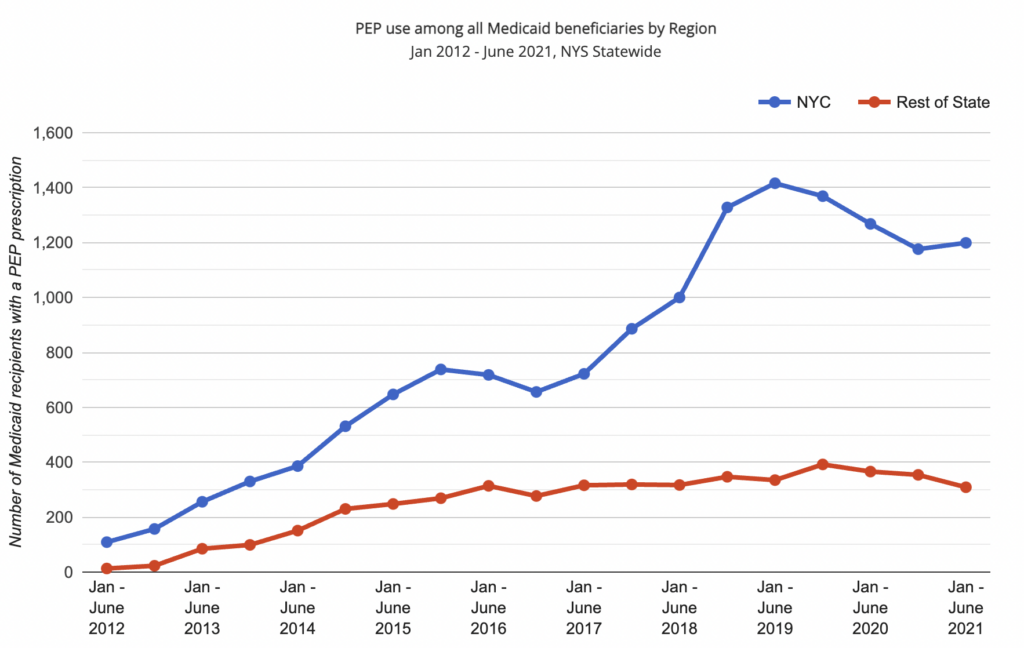 Data from this six month period suggest that, while the substantial declines observed in PrEP and PEP utilization during the early COVID-19 pandemic have subsided, overall usage has not yet rebounded to pre-COVID levels. The full, long-term impact of the COVID-19 pandemic on PrEP and PEP use in New York State is still unknown and will need to be observed in the years ahead.
The ETE Dashboard will continue to report on these key metrics as the data become available.
Click on the links below to explore more data: