New York City Ending the Epidemic Program Implementation Data Now Available on the ETE Dashboard
By ETE Dashboard |
November 29th, 2021 |
Categories:
Tags: |
0 Comments
In 2015, Mayor de Blasio announced the New York City Ending the Epidemic Plan (NYC ETE Plan). Building upon the New York State Blueprint for Ending the Epidemic, the plan includes five strategies to reduce the number of new HIV infections to non-epidemic levels and improve the health and well-being of New Yorkers with HIV. While the ETE Dashboard has routinely disseminated NYC data on core NYS ETE metrics and select outcomes across the HIV status neutral care continuum, a new interactive page provides detailed information and implementation data on select NYC ETE programming and services. The page features eight programs administered by the NYC Department of Health and Mental Hygiene (NYC DOHMH)'s Bureau of Hepatitis, HIV, and Sexually Transmitted Infections, designed to increase access to HIV testing, prevention, care, and treatment services, and improve HIV-related health outcomes citywide. The page also features two direct services programs in NYC DOHMH's Sexual Health Clinics. Cumulative and quarterly data for all 10 programs provide useful insight into the citywide implementation efforts to end the HIV epidemic.
Highlights from Select NYC ETE Programming and Services
The NYC Sexual Health Clinics have long served as critical sources of low- to no-cost sexually transmitted infection (STI) and HIV testing and onsite STI treatment. In 2017, NYC DOHMH announced a multimillion dollar investment in the clinics to support expanded hours of operation, extensive renovations, and state-of-the-art STI and HIV service enhancements. Among these new services is JumpstART, a program through which onsite HIV antiretroviral treatment (ART) is available to patients on the day they are diagnosed with HIV and to patients who are treatment-naïve. From 2017 through 2019, 440 clients initiated ART following a new HIV diagnosis through the clinics' JumpstART programs.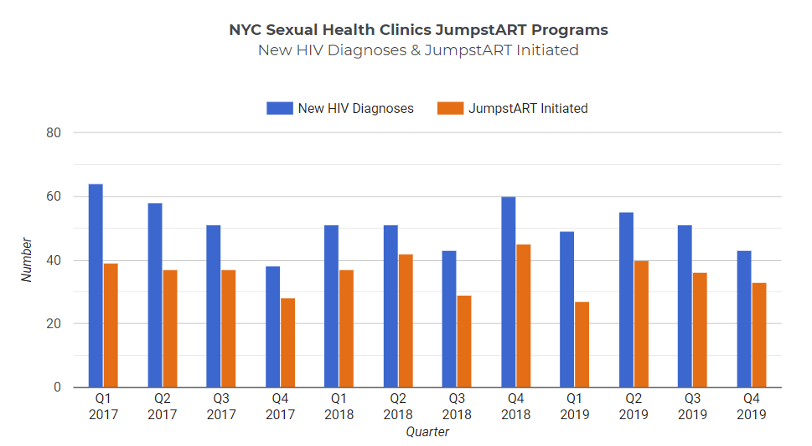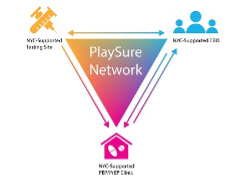 The PlaySure Network for HIV prevention is a citywide network of HIV testing sites, community-based organizations and clinics working together to promote patient-specific approaches to sexual health and HIV prevention, increase access to PrEP and emergency PEP, and link people who test positive for HIV to care. From program rollout through Quarter 4 of 2019, there were 25,043 enrollments at PlaySure Network sites. The PlaySure Network conducted 21,493 PrEP and PEP education sessions during this time, and there were 4,336 PrEP initiations at clinical sites. At sites that were non-clinical or specifically provided PEP programming, there were 2,810 linkages from these sites to clinical PrEP providers.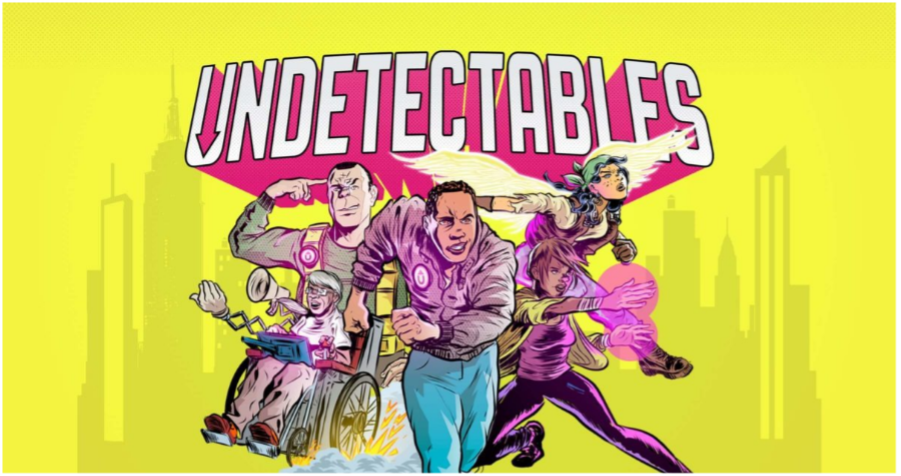 The Undetectables is an ART support program combining health marketing with a toolkit of evidence-based adherence supports, including client-centered care planning by providers and financial incentives for clients achieving viral suppression. From 2017 through 2019, 1,265 unique clients who were enrolled for at least six months maintained viral load suppression in each quarter in which viral load is measured (after the first quarter in which they had a suppressed viral load).
The ETE Dashboard will continue to report program data related to NYC ETE programming and services as the data become available.
The ETE Dashboard team would like to acknowledge and thank the NYC DOHMH for their significant contributions to the development of this data visualization.