2023 HIV/AIDS and Aging Awareness Day
By ETE Dashboard |
September 18th, 2023 |
Categories:
Tags:
|
0 Comments
September 18 is National HIV/AIDS and Aging Awareness Day, a day to raise awareness about the growing number of older adults living with HIV or newly diagnosed with  HIV. As of 2021, 57% (59,390) of people living with diagnosed HIV in New York State were 50 or older. With advances in HIV treatment, people with HIV are living longer and healthier lives; however, they may also face unique issues related to aging, such as increased risk of chronic diseases, social isolation, stigma, and discrimination.
On this day, we want to highlight the importance of HIV prevention, testing, care, and treatment for older adults in New York State, as well as the need to address the social and structural barriers that affect the health and well-being of people aging with HIV.
Be Status Aware: Many older adults are diagnosed with HIV at a later stage of infection, which can lead to poorer health outcomes and increased transmission risk. Older adults may not perceive themselves as being at risk of HIV or may face barriers to accessing testing services, such as lack of awareness, stigma, or provider bias (Sankar et al). Older adults are the least frequently tested age group in New York State with only 7.1% of adults over the age of 45+ reporting being tested in the last 12 months as of 2021. Older adults are also more likely to be concurrently diagnosed with AIDS, with 36% of new HIV diagnoses among adults over 50+ in NYS being diagnosed with AIDS within 30 days of HIV diagnosis.  Explore more data on the ETE Dashboard to learn about HIV testing and ETE metrics including concurrent AIDS diagnoses.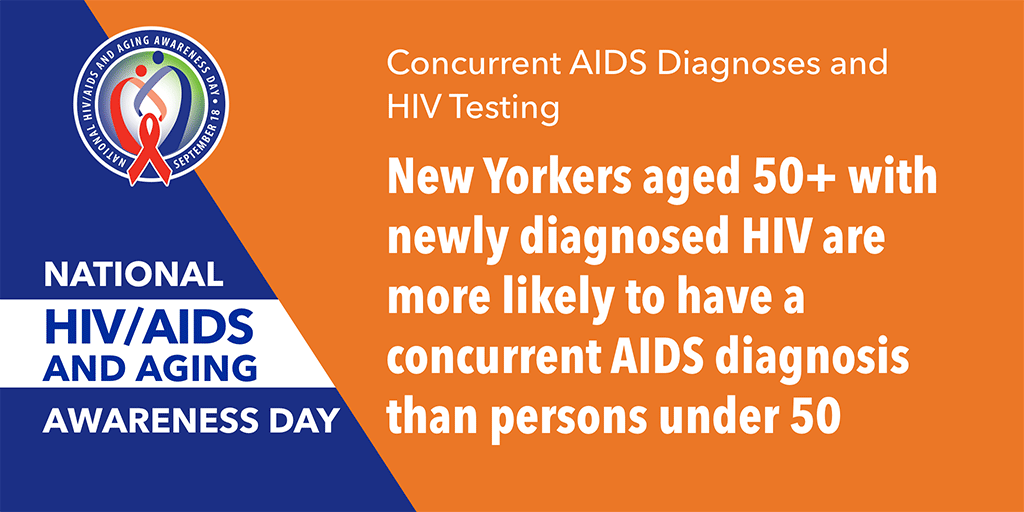 Effective HIV prevention options: Older adults can benefit from various prevention strategies, such as condoms, pre-exposure prophylaxis (PrEP), and post-exposure prophylaxis (PEP). PrEP is a daily pill that can reduce the risk of getting HIV by up to 99%, while PEP is a medication that can prevent HIV infection if taken within 72 hours after a possible exposure. In 2021 there were 6,291 PrEP prescriptions filled in NYS for adults over 50, accounting for 15% of all PrEP prescriptions in the state. See more data on PrEP usage here…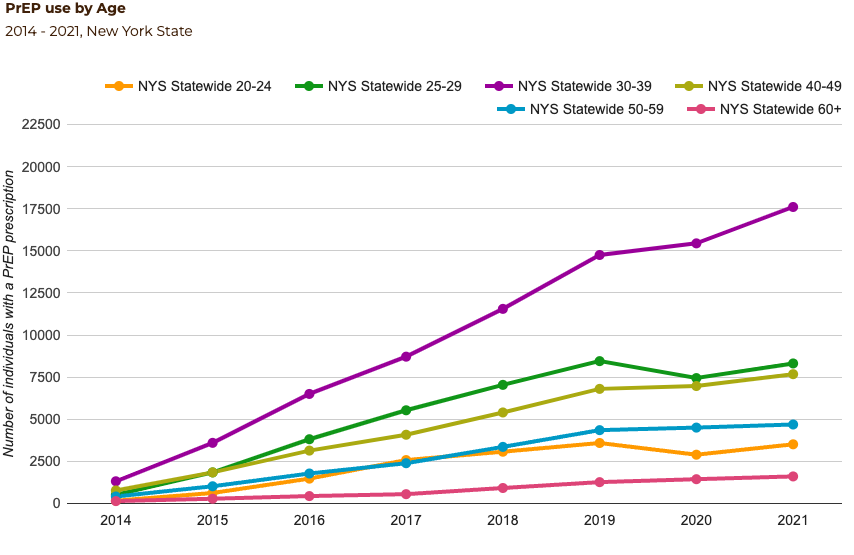 Quality HIV care and treatment: Older adults with HIV can live long and healthy lives if they adhere to antiretroviral therapy (ART) and maintain an undetectable viral load. In 2021, 83% of New Yorkers over the age of 50 were virally suppressed. New Yorkers living with diagnosed HIV aged 50 and older are more likely to be virally suppressed than those under 50. However, they may also face unique challenges such as drug interactions, side effects, comorbidities, mental health issues, or social support needs. Older adults living with HIV could benefit from comprehensive care that addresses their physical, mental, emotional, and social needs, and other broader resources to improve their quality of life, including housing, transportation, nutrition, legal aid, or peer support (NIH)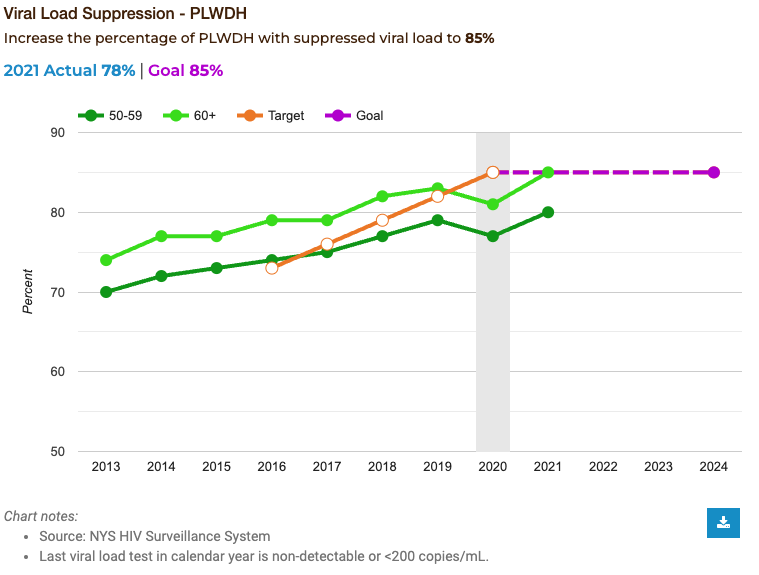 Zero stigma and discrimination: Stigma and discrimination can negatively affect the health and well-being of older adults with or at risk of HIV. Challenging negative stereotypes and myths about older adults and HIV, promoting positive and respectful messages, creating safe and inclusive treatment/care and community spaces, and advocating for the rights and dignity of older adults are key to reducing stigma and discrimination based on HIV status.
National HIV/AIDS and Aging Awareness Day is an opportunity to celebrate the resilience and diversity of older adults living with HIV in New York State. It is also a call to action to ensure that they have the information, tools, services, and support they need to live healthy and fulfilling lives. Let's join together to stop HIV stigma and end the HIV epidemic among older adults in New York State.