ETE policy updates from 2022 now available
By ETE Dashboard |
November 6th, 2023 |
Categories:
Tags:
|
0 Comments
Policies and key legislation passed in 2022 related to the Ending the Epidemic initiative are now available on the ETE Policy Tracker.
Launched in 2019, the ETE Policy Tracker documents proposals adopted or enacted into laws and regulations since the ETE initiative was first announced in 2014. Policy updates are organized by ETE Blueprint aim and recommendation and include a brief summary of the policy change and background information on its relevance to ETE. The ETE Policy Tracker highlights the significant progress New York has made through legislation towards reaching the goals of ETE.
Recent Policy Highlights
In 2022, the governor signed legislation that established the Lorena Borjas Transgender Wellness and Equity Fund to support organizations providing critical services for transgender, gender non-conforming, non-binary and intersex communities. Related to Blueprint 19, which calls for New York State to institute an integrated comprehensive approach to transgender health care and human rights, this funding seeks to remove barriers to accessing health often experienced by transgender New Yorkers. The Lorena Borjas Transgender Wellness and Equity Fund became effective earlier this year on April 1, 2023.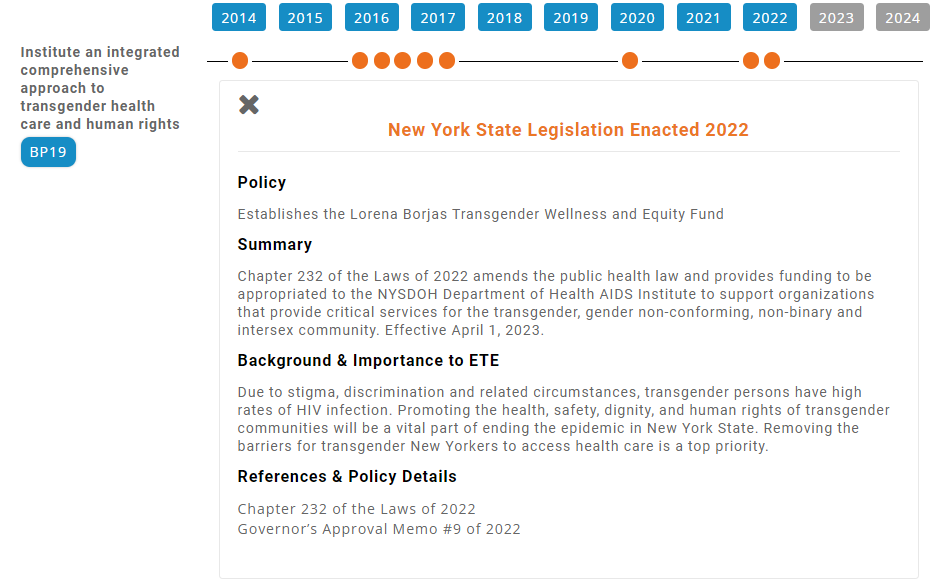 Additional legislation passed in 2022:
Opioid Overdose Prevention in NYS Colleges and Universities
Healthcare Workforce Training for Diverse Patient Populations
Voluntary Nightlife Opioid Antagonist Program
Visit the Policy Tracker to explore policies and regulations adopted in recent years to address ETE goals in New York State.